Lugaru's Epsilon
Programmer's
Editor
Context: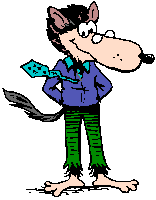 ---
Epsilon User's Manual and Reference > Commands by Topic > The Screen > Windows >
Selecting Windows
The Ctrl-X N key moves to the next window, wrapping around to the first window if invoked from the last window. The Ctrl-X P key does the reverse: it moves to the previous window, wrapping around to the last window if invoked from the first window.

You can think of the window order as the position of a window in a list of windows. Initially only one window appears in the list. When you split a window, the two child windows replace it in the list. The top or left window comes before the bottom or right window. When you delete a window, that window leaves the list.

You can also change windows with the move-to-window command. It takes a cue from the last key in the sequence used to invoke it, and moves to a window in the direction indicated by the key. If you invoke the command with Ctrl-X <Right>, for example, the window to the right of the cursor becomes the new current window. The Ctrl-X <Left> key moves left, Ctrl-X <Up> moves up, and Ctrl-X <Down> moves down. If key doesn't correspond to a direction, the command asks for a direction key.



---


Copyright (C) 1984, 2020 by Lugaru Software Ltd. All rights reserved.